Facebook
More than fifteen years have passed since a young American, Mark Zuckerberg, started encouraging people to start using Facebook. Over this period, the service has gained enormous popularity. According to 2017 estimates, the number of users at that time exceeded an incredible two billion. So it is not surprising that a large part of the business world has also moved to the pages of this social network. After all, everything is based on the main principle: if your customer is somewhere, you need to be there too!
Tomasz Rejman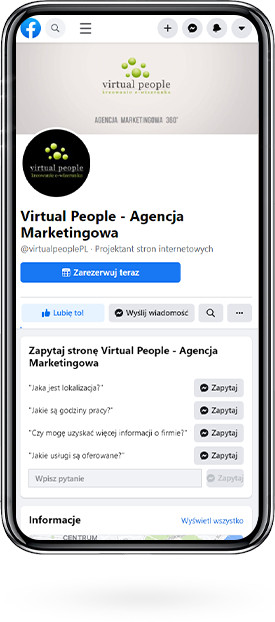 What sets Facebook apart from other social networks and encourages people to look for potential audiences there? First of all, its general accessibility and popularity. Many people in the world have already become accustomed to this platform, have managed to get to know and trust it. This, in turn, gives companies a unique opportunity to reach these people, trying to interest them in their service or product. A very helpful (and even necessary) tool in this process is the possibility of audience targeting.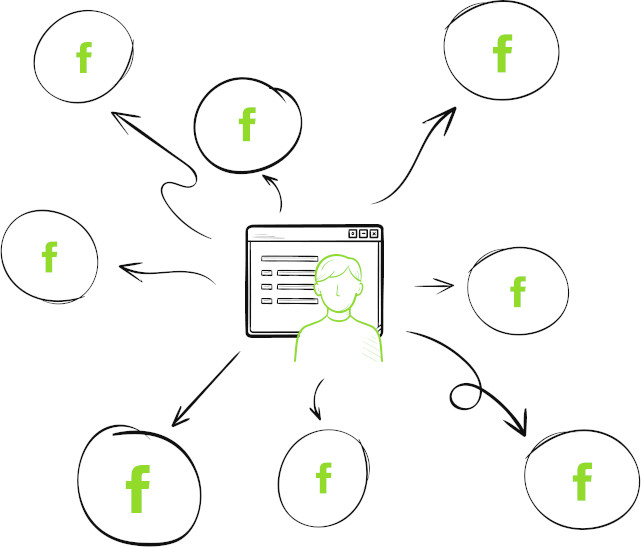 Can you create a community on Facebook?
YOU CAN AND YOU SHOULD!
Since we're talking about the opportunities offered by Facebook, it would be wrong not to mention the potential for community building offered by this platform. Creating and developing a well-run profile allows you to reach new audiences, and also translates into establishing your brand's reputation and cementing its positive image online. After all, all actions aimed at a kind of subtle self-presentation are based on one of the basic marketing truths:
If you want people to start talking about you, you must first start doing it yourself.
Be active!
Nowadays, Facebook has changed its focus somewhat – becoming a kind of a news portal, serving largely for discussion and exchange of opinions. Invariably, however, its great strength and value remains in groups, where active users spontaneously spur further interactions between Internet users. Why is this so important for companies that want to advertise on this platform? We refer you to our sub-page on buzz marketing, where you can learn how you can benefit from virtual themed groups to increase interest in the product or service you offer.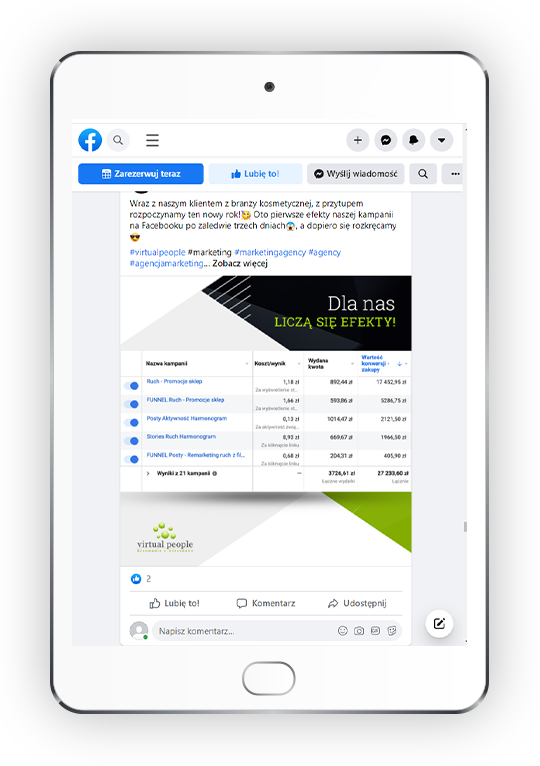 The power of targeting
There is a lot to be said about Facebook. The fact is that over the past decade or so, so much content has appeared on this site, that at times you could feel a kind of chaotic disorder. This, on the other hand, can certainly not be said about targeting, because it works flawlessly and is a kind of synonym for orderliness. It is thanks to it that we can easily reach a properly profiled audience with our message. Gender, age, interests – defining these parameters increases the scope of the campaign data and allows us to narrow down the group of potential customers. This means that advertising does not reach inappropriate audiences, increasing its effectiveness by design.
Are you interested in Facebook advertising activities?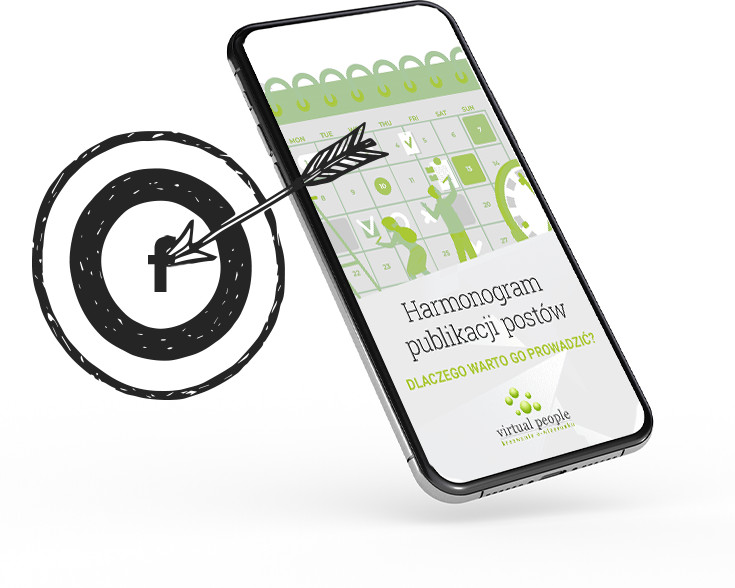 Put your trust in the specialists
At Virtual People, we have been learning the secrets and nuances of Facebook for more than a dozen years, so we confidently call ourselves experts in this field. We track and analyze the implemented changes, study the Internet traffic and constantly optimize the process of reaching the users effectively. The social network we are talking about is still very popular, and as a result, there are many potential recipients of your brand registered in it. How do you reach them? That's where we come in. Trust the team of specialists from Virtual People, be present on Facebook and learn how to use this platform to achieve measurable business results.
Over
10
Years of professional Facebook campaigns
More than
1,5 mln pln
annually managed Facebook Ads budget
Almost
8 mln zł
earned for our clients through Facebook Ads
Almost
100
supported company profiles
A team of experienced marketers, analysts and instructors
We offer the following opportunities:

Managing a profile
How to engage with your fans on Facebook and present the company in the right light? The answers to these two questions lie in the issue of managing a profile skillfully. At Virtual People, we offer the experience and creativity to make you stand out and get noticed in the world of Facebook.

Managing advertising campaigns
The business aspect of Facebook lies primarily in the extensive advertising opportunities guaranteed by this social network. Composing the right message, targeting advertising to the appropriate audience, implementation, analysis and optimization of the adopted measures – these are the pillars effective advertising campaigns are built on.
Do you want the entire project to be polished from A to Z and to produce the desired results? Trust the Virtual People team specialists and see how you can promote yourself on Facebook effectively.
less

Developing graphics and content
If your Facebook materials are supposed to make you stand out from the crowd and attract potential customers, they need to be prepared properly. At Virtual People, we think outside the box, develop unique content and customize original graphics. Do you want to stand out and make your posts relevant, modern and engaging to your audience?
You've come to the right address.
less

Profile audit
Years of experience make us capable of conducting effective social media audits. We will analyze your Facebook profile thoroughly, see what works well and what could be improved. We will share our insights with you, give our opinion regarding implementation of specific solutions and suggest some practical tips.

Ad analysis and optimization
Skillfully creating Facebook ads is not at all a simple task. It is easy to make a mistake that will derail our efforts and cause the invested funds to be used ineffectively. If you have doubts, seek advice from specialists. Our experts will analyze specific ads and suggest implementing corrective measures …
to optimize them. Take advantage of the support and enjoy the full potential of your Facebook advertising business.
less

Building audience groups
Achieving success in the social media space is only possible if we manage to influence people. How do we get the audience interested in our offer and create a group of engaged fans? That's what we are for. We have the experience required to build a virtual community, we know how to get users …
interested and we are able to ensure that people talk about you. Interested? Contact us.
less

Cooperation with influencers
Influencer advertising requires specific knowledge and understanding of industry realities. Who should you contact? How do you plan an effective campaign? How to establish favorable terms of cooperation? There are a lot of questions, and lack of experience in this matter makes it difficult to find clear answers. At Virtual People we are …
well aware of this, and that's why we are happy to provide help and good advice. Want to start promoting your brand with the help of influencers? Contact us and see how to do it the right way.
less

Training
Skillful use of social media sites opens up completely new possibilities when it comes to promoting the company. To meet these expectations, we offer professional training courses on how to manage your business on Facebook. During them we tell you about the most useful features, teach you the principles of building a virtual community, as well as provide …
practical advice regarding the published content, graphic composition or advertising campaigns. Do you want to gain valuable knowledge and confidently move in the world of Facebook opportunities? If so, then our training is just for you!
less