The brand and its image,
or how to build a company's visual identity
Over the years, during which we gained experience in the industry, we have learned, among other things, two fundamentally important things – to listen and to understand. We look to our clients for specific solutions and ways to properly direct the design and planning process to transform that initial idea, information and aspirations into something everyone has been waiting so long for.
Tomasz Rejman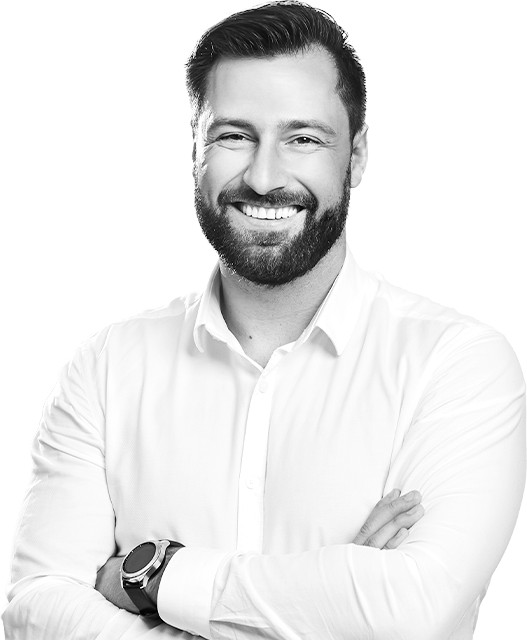 Visual identity – where to start?
Creating any enterprise begins with an idea. It is the (regardless of the degree of specificity) that initial vision of the creation that the company will eventually turn into. Some people know what its purpose or operating principles will be already at the start, some just lack the right name, and yet others have nothing more than that.
In practice, this means that clients have different needs and expect personalized support – from taking their first steps in the market, to helping them refresh their brand, to growing their business significantly. That's why the key to fruitful cooperation is conversation and complete understanding of the other party's needs. Only by doing so will we be able to achieve amazing results.
However, ideas tend to be born through pain, sometimes there may even be too many of them.
During our work we have learned how to come up with the best ones in order to achieve maximal results. It also happens that we take on the role of Dirty Harry and have to get rid of what is unnecessary. Well… after all, what are professionals for?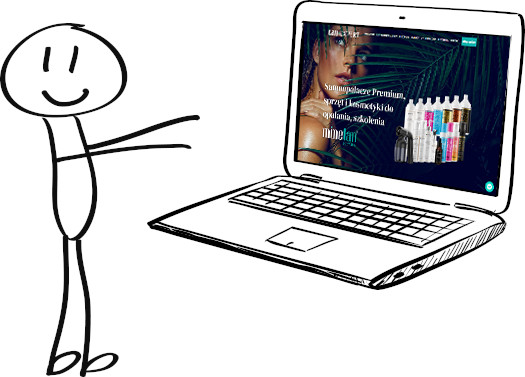 Do you know how important visual identity is?
We will answer this question with another one. When encountering a brand, have you ever paid attention to its logotype, the colors it uses, the font or the specific nature of the photos or graphics used? Among other things, it is these elements that constitute a certain kind of recognition pattern for a given company and are intended to trigger associations connected with it. That is why it is called the company's visual identity.
The thing that makes your company unique and exceptional is of course its specific genotype. However, it is worth remembering that skillful, properly targeted and regularly applied actions make customers easily (and often even subconsciously) detect and identify your brand.
Where to start with brand Identity?
For many people, these inconspicuous elements have little meaning and are treated somewhat with a pinch of salt. However, the facts are that they are what sets you apart from the crowd of competitors and communicate what you are, what services you provide or what you sell in a unique way. This lets the customer know what your company specializes in, and this is often the first step to later contact and potential cooperation.
What do you do?
What services do you provide?
What do you sell?
Build your identity mindfully!
Let us know what you need!
It is no secret that the marketing psychology is very applicable to our daily lives and to some extent (more or less consciously) affects our purchasing decisions. There is an interesting statement that a good advertisement is one that, in the mind of the recipient… is not advertisement at all. Visual identity works on just such a principle. The customer sees the logo, colors, photos and all the distinctive trademarks of the company, and this often even automatically shapes his later pattern of consumer behavior.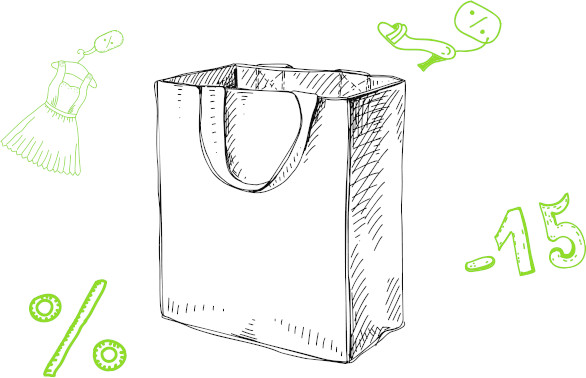 At Virtual People, we have valuable knowledge of marketing psychology and the way brands can effectively interact with their customers. When working with clients, we additionally combine this with hard marketing theory and creative and unconventional, outside-the-box thinking. This entire mixture, enriched by more than 10 years of business experience, ensures that we don't beat around the bush when it comes to cooperating with our partners We have our own proven recipe and simply bet on what has good quality and brings measurable results.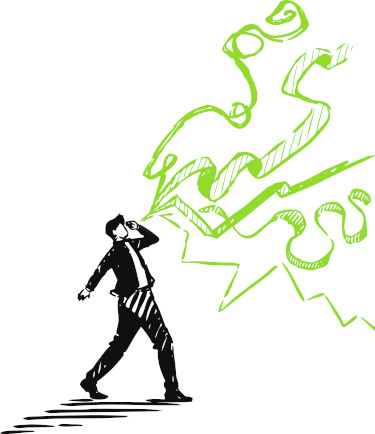 Let us know what, you need!
We develop visual identity initiatives based on several pillars, which allow us to realize our basic objectives and skillfully build our client's brand in a modern way. These are, in order:
The thing that completes the picture and, in a way, finishes the effective visual identity of the brand is, of course, a properly constructed website. You can read more about the possibilities guaranteed by a well-thought-out website in our WEB section.
Building a visual identity – how to start?
It all really starts with an idea that first originates in your head and then is presented to us. Inspired and excited by the idea, we walk around restlessly for a few days, and then organize a big corporate brainstorming session (we are not allowed to reveal the details, because it would risk the intervention of a vice squad). During it we outline a vision and create ideas, which begin to take shape moments later. Step by step, the name and idea for a color are created, then gradually turned into a logotype.
That's what sets the direction for your website and influences many elements – business cards, flyers, brochures, folders, advertising banners, etc. It all forms a unified entity and forms the basis of the so-called brand book. The created visual identity will be the marketing power of the company and will significantly help in the gradual development of the brand image on the market.

1
Getting to know your needs

2
Brainstorming

3
Idea

4
Creation

5
Development!
Why is it so important?
The answer to this question is complex, because the benefits of a properly shaped corporate identity relate to many aspects. First of all, in the realities of the modern market and the era of strong competition, a coherent visual identity is pretty much the absolute basics. It is through it that you become associated and recognizable, and customers are aware of your brand. All the elements are important, because their combined value is much higher than the sum of each of them separately. Compatible actions build brand image and become ingrained in the subconscious of the customers, and this inevitably translates into their consumer decisions later on.
What is also important is the fact that in today's market conditions there is no longer any room for mediocrity. Those days are long gone, and companies competing for customers must offer products and services at an appropriately high level. Properly constructed visual identity allows to consolidate a positive brand image and makes the recipients notice and (very importantly) understand the relationship between the elements of the company's operations.
Quality
Consistent image
Appropriate message
Recognizability
The truth is that visual identity is something that is built for the long term. That's why it's important to treat this sphere of endeavor as a long-term process, not as a short-term solution. A coherent and well-thought-out strategy in this area brings significant results, so it is important to get off to a good start. If everything is properly planned and coordinated from the very beginning, after some time you will be able to look at the results of the implementations with satisfaction.
Business experience
Professional support
Understanding of your needs
Comprehensiveness of services
Why us?
Our team of experienced professionals will help you and provide valuable support from the very beginning. First we will listen to your ideas carefully, then we can understand not only your business, but also your customers' needs. Then we will begin to build your brand together so that it reflects what you want to communicate and reaches the right audience.
Do you have additional questions?
We'll be sure to answer them!
We will plan the whole process, explain to you the rationale behind our actions and adjust the next steps to ensure your company's stable development. We will support you, advise and watch over the next points of implementing our concept. When working with Virtual People, you are guaranteed quality, creativity and a partnership approach. We highly value the relationships with our clients, so you can be sure that we will take proper care of you and your business. Have everything in one place and trust experienced specialists. We are waiting for you and your idea.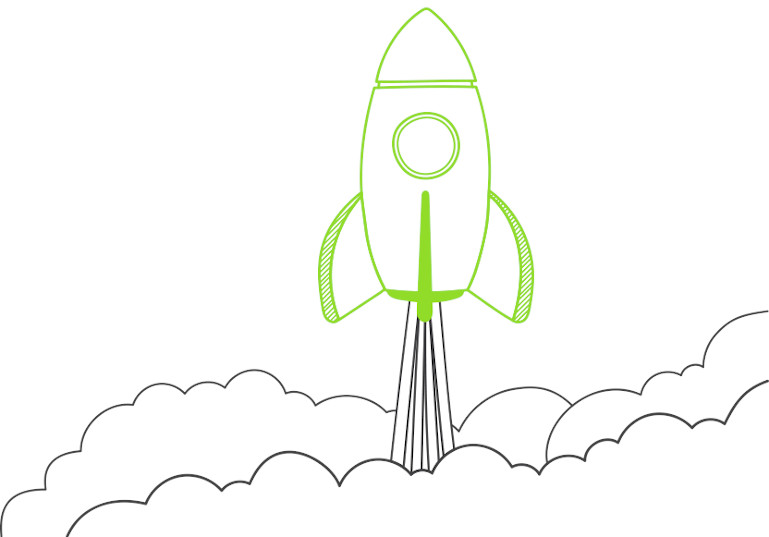 What else can we do for you?

Naming
It's a well-known fact that a good company name is essential, as it is usually the means of the first customer interaction. So how do you make it interesting to the recipient, create positive associations, encourage him to contact you, and in addition, still be catchy and easy to remember? There are many questions, but fortunately, we can answer each of them.
By choosing Virtual People, you are actually choosing experience, creativity and uniqueness. Combining these elements, our team will develop a unique name that will help you kick off your business.
less

Logo
To say that the logo is the company's primary business card is to say nothing at all. By now we are all well aware of this element's significance in terms of importance and the attention it requires. A logo represents not only a unique idea, but also the right choice of colors, shapes and slogans, which are supposed to momentarily ingrain in the minds of the audience.
Do you want to become recognizable and give your business a distinctive identity? You have come to the right address. The Virtual People team will prepare propositions that will allow you to move confidently towards the future.
less

Brand book
Brand book contains descriptions of the structure of a specific logo and sets rules for its proper use. With these rules, your communication will be smooth, uniform and consistent, building the strength of your brand. In addition, it will enable your partners to use your logotype properly. Having a well-prepared brand book
provides security and ensures that your branding will circulate through in the right form. This consistency, on the other hand, builds your brand recognition, so it is an important step in the visual identity of your company.
less

Branding strategy
Branding planning can be defined by the word "strategy". It's a complex process, with the objective of combining individual elements in such a skillful way that they consolidate into a single, integral and profitable whole. Beginning with basic issues and then moving smoothly to more advanced ones,
we are constantly guided by the same idea: to anticipate the next steps and make the actions taken compatible with each other. So when you choose Virtual People, you are choosing an idea and a strategy for a clearly shaped future.
less

Logo makeover
Times are changing, and modernity – in a completely changed form – knocks at the gates of our companies from time to time and demands changes. To meet these challenges, we sometimes need to update some elements of the company's visual aspect. Making over the logotype and adapting it to new trends is very important. On the one hand,
it is necessary to adapt to the new circumstances, on the other hand, it is imperative that the changes made do not bury the identity developed so far. So the process should be carried out sensibly, with a clear idea and in great detail. Sound complicated? A little bit, but we can handle it without a problem. Trust our skills and steadily adapt to modernity.
less

Image creation
As they see us, so they write us – this popular maxim basically says everything about the nature and value of image. How do we want to present ourselves and be perceived? What to be associated with? More important than posing these questions is simply finding the correct answers. We, with our many years of experience in the industry,
possess this knowledge and are happy to share it. Working with Virtual People, you gain confidence that competent people who know their stuff are responsible for creating your company's image. Take advantage of our support and see how much we can do for your company's market image.
less

Creating advertising materials
A catchy slogan, a well-designed flyer, aesthetic banner ad? Yes, yes and yes once more. At Virtual People we deal with professional preparation of advertising materials in various forms. Do you want to promote your company so that it stands out? You demand quality
and ensuring that all materials are not only consistent, but also done properly and in a creative way? You have found the right people. Our team will take care of every step of the process and ensure that you advertise at your best. Contact us and see what we can offer you.
less
Have we piqued your interest? Grow your business with us, take care of your company's visual identity and take a big step towards a bright future. Feel free to contact us.