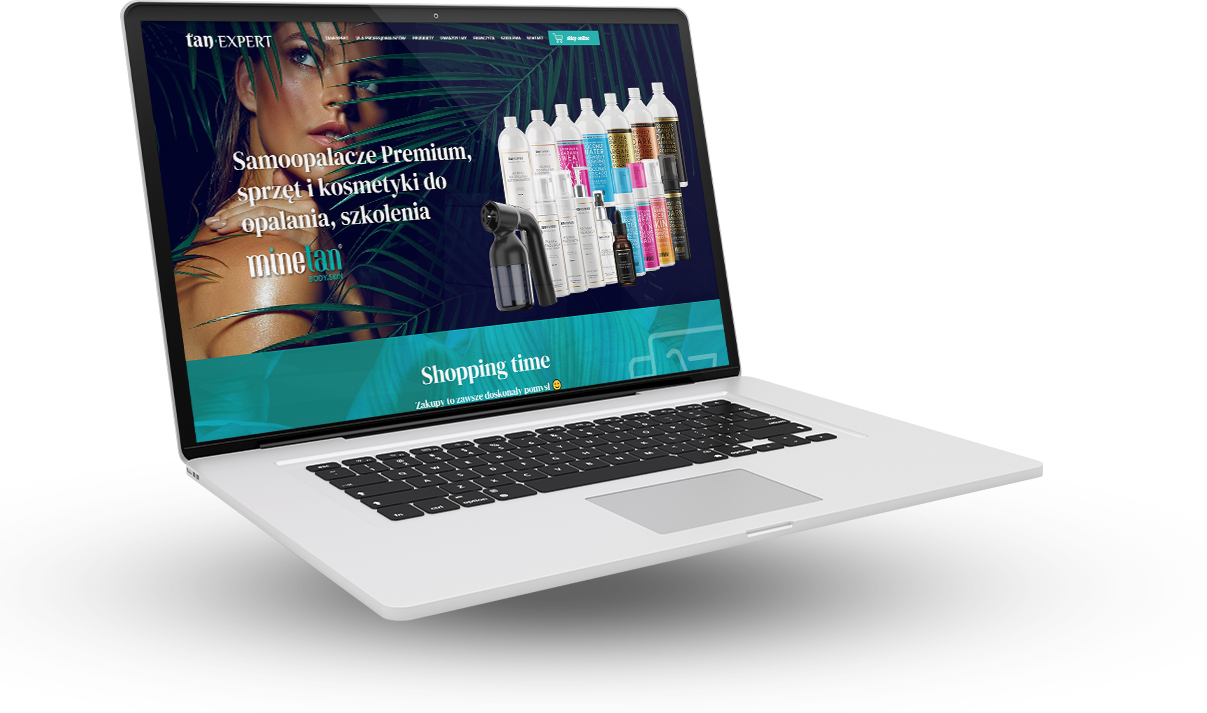 Scope of work
Creating a complete visual identity online with websites
Software implementation
Planning the UX and UI structure
Creating strategy and optimization of advertising activities
See project online
Tan Expert began operations by entering the Beauty market to sell self-tanners for professionals (i.e. spray tanning lotions). The brand started its operations during the pandemic, which was no small challenge for us. Our comprehensive business support, based on creating a complete customer identification and developing a comprehensive marketing plan, led TanExpert to continue working with us to this day and achieving outstanding sales results.
Project coordinator
Grzegorz Kozak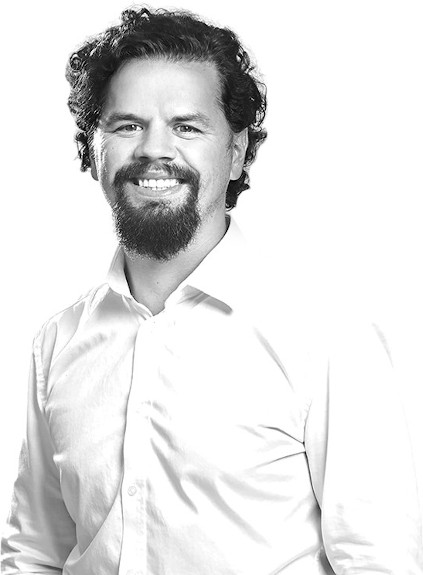 Project objectives
At the very beginning, we conducted a thorough analysis of how the beauty market operates in order to figure out exactly how we wanted to present TanExpert, based on the goals and work steps the client presented to us. We were to create a business model and an online tool allowing the client to purchase products from the website. The operational concept for the online store was presented in a very well-thought-out way, and we were left only with the task of dealing with all the technical issues. We had to think about the solutions we would like to implement on the company's website and develop an advertising campaign strategy.

Creating an online store

Creating a business model

Running a promotional campaign

Campaign based on influence marketing
Result
Based on the guidelines developed by us and the client, an online store was created where users can easily purchase products from the TanExpert offer, for that moment it was MineTan products. We created an affiliate structure that allowed experts, bloggers and other people who use and promote these products in their social channels to earn commissions. A complete store mechanism was created, that included benefits for the promoters. Our biggest challenge turned out to be working during the COVID-19 pandemic, we were forced to modify existing activities and look for additional solutions. After considering the possibilities, we decided on a model aimed at the individual customer, that is, from the B2B market (aimed at companies) we also targeted activities for the B2C market. We reconstructed the entire online store adapting it in terms of UX and UI for the individual customer. We started promoting products such as tanning foams, which were initially targeted at beauty salons. We took care of implementing payment systems on the site and created a discount code mechanism. We decided to conduct influence marketing, which proved to be quite successful. As the company grew, collaboration with influencers progressed. We collaborated with: Natalia Siwiec, Blanka Lipinska, Magda Pieczonka, Sylwia Szostak, Marcela Leszczak, Eliza Trybala and many other well-known celebrities.
Number of site visits per year
1 000 000
Number of new users per year
600 000
E-commerce conversion rate
4,83
The Google ADS campaign evolved into a social media campaign, where we focused on promoting videos and graphics, which contributed to high brand recognition for TanExpert. Eventually, we decided to focus on selling our own products. We participated in the entire branding process, designed the packaging, promotional graphics and all descriptions of the products on the website. To this day, we serve the individual market, as well as the professional market, so we are involved in creating advertising materials for beauty salons as well.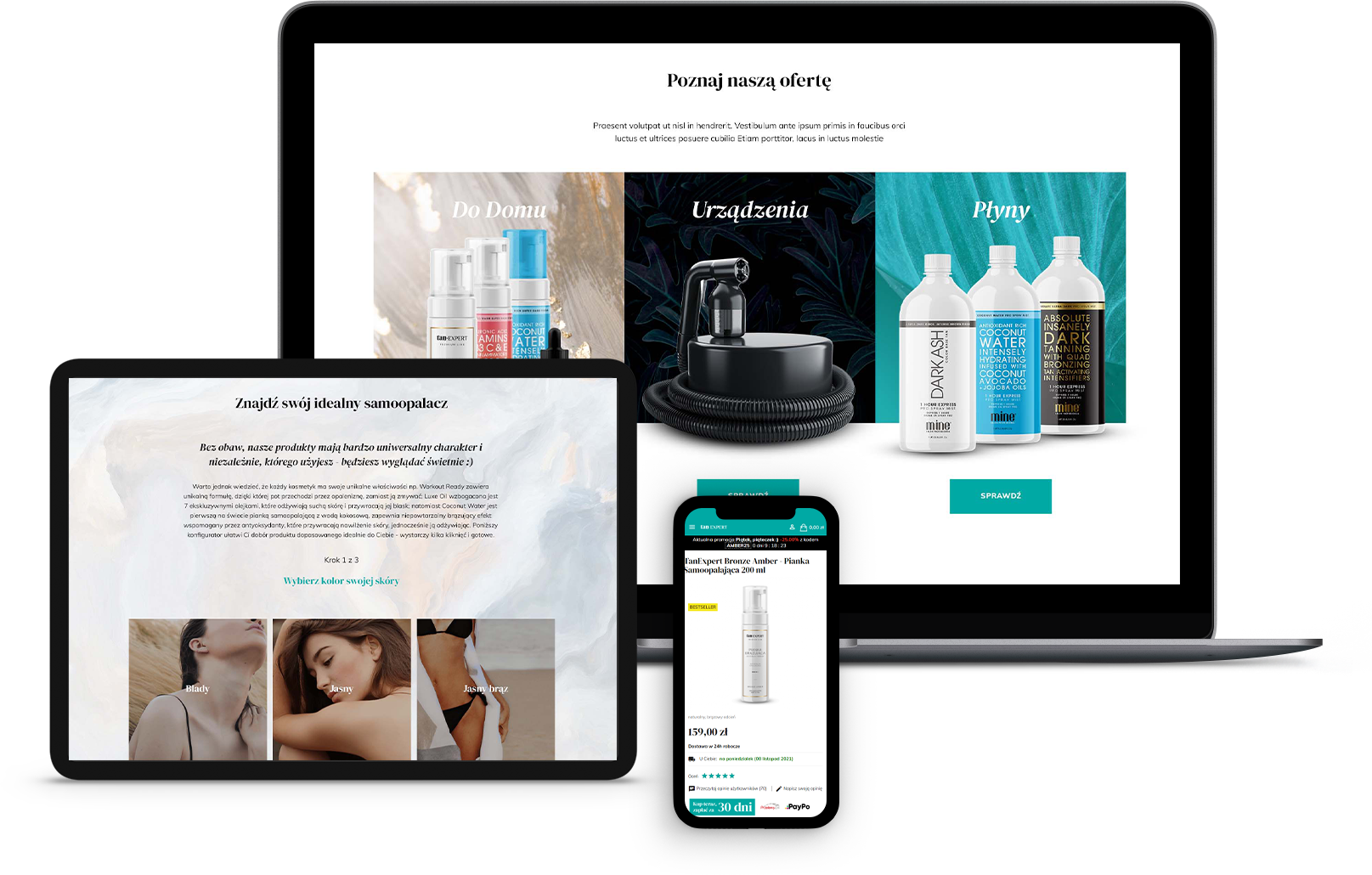 People in Virtual, have great knowledge translating into effective actions. Cooperation with them is pure pleasure. We recommend them to everyone.
https://tanexpert24.pl/pl/